Underwater Kelp Forest Videos
Mutual of Omaha's Wild Kingdom was a popular TV show many years ago. Host Marlin Perkins and his naturalist sidekick Jim Fowler brought nature and wildlife into our living rooms. Starting in 2013, Wild Kingdom premiered a series of webisodes that featured new host Stephanie Arne, a new format and new stories about the world's wildest places and creatures. In 2017, director of underwater photography Jim Knowlton filmed underwater video at Catalina Island, Anacapa Island and Santa Cruz Island for their new series titled, The Floating Forests. These California Channel Islands provide some of the cleanest and most reliable conditions to shoot video underwater and to find healthy kelp forests and sea life.
In Life in the Kelp, Dr Jenn Caselle, of the Marine Science Institute at the University of California, looks at the diversity of life in a kelp forest. Check out the underwater video of giant sea bass that I shot with a Canon 5D Mark IV. I shot this in 1080p 60 fps since the 5D Mark IV video camera does not have the option to shoot 4K at 60 fps. The Producer wanted to slow all the underwater scenes down to half speed during the edit. So, I shot at 60 fps and he slowed it down during post.  You might think, "why slow down underwater video when everything already appears really slow anyway?" But, the look is awesome. In slowmo, captured at 60 fps or 12o fps, everything becomes dreamy. And, you get to take the best moments of a shot, the moment of the action, and slow it down to enjoy every bit of it and for a longer period of time. I now shoot underwater video with a Canon R5 that allows me to shoot 4K video at 60 fps and at 120 fps and I really like this look.
In The Kelp Forest Ecosystem, Dr. Jenn Caselle explains what kelp is and how it benefits the ocean and our planet.
In Sanctuaries in the Sea, Dr. Jenn Caselle explains how she and her team monitor kelp forests and how marine protected areas help keep the ocean healthy. …along with more underwater video of giant sea bass! We had been filming for about a week daily while staying on shore at Catalina overnight.  I focused on shooting underwater video while the rest of the crew filmed the topside scenes. It was the last day of our trip at Catalina and the crew said we had time for one more scuba dive before we brought the dive boat back to the harbor. So, we stopped at the edge of Casino Point, at a spot where giant sea bass are known to be seen by divers. Giant sea bass are now more correctly known as 'wreckfish' – because they are not in the sea bass family.
We all put our dive gear on and Stephanie and I jumped in to find the wreckfish. It wasn't long before we were face to face with seriously giant wreckfish that were resting in the giant strands of kelp.  We captured way more underwater video of wreckfish swimming in kelp and with Stephanie Arne than what appears in the video. It was an awesome experience that had us all high-fiving each other on deck after the dive.
Wild Kingdom also asked me a few questions on camera to create a short video spotlight about my work and my thoughts about underwater cinematography: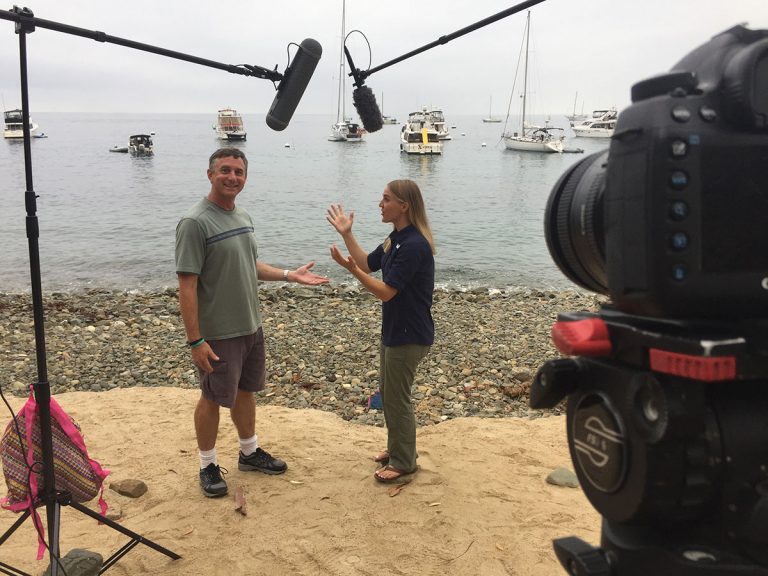 On the set with host Stephanie Arne at Catalina Island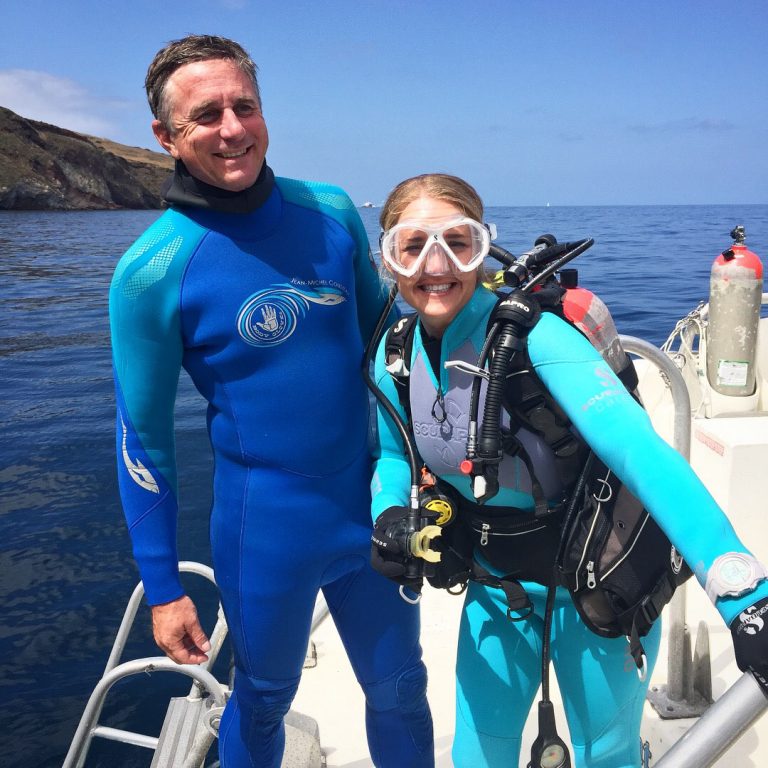 Wild Kingdom host Stephanie Arne: smart, articulate and fun. We got along just fine – her in her Scuba pro sponsored powder blue wetsuit and me in my Jean-Michel Cousteau team wetsuit. Good fun at Catalina Island!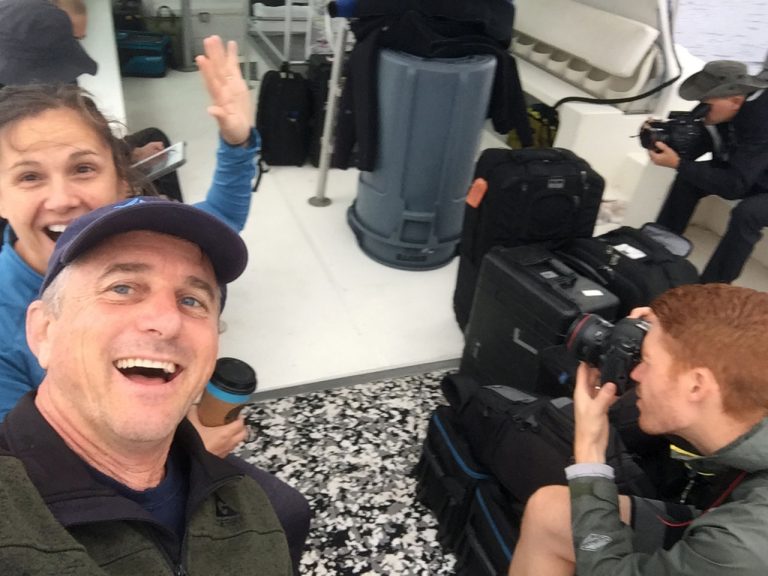 The Mutual of Omaha's Wild Kindgom series is produced by Mike and Patty Malone of Malone and Co. located in Nebraska. Mike and Patty and their crew are exceptional at their craft and they were awesome to work with. We had so much fun together filming these episodes.
Check out other episodes in The Floating Forest series and many other webisodes of Mutual of Omaha's Wild Kingdom HERE.