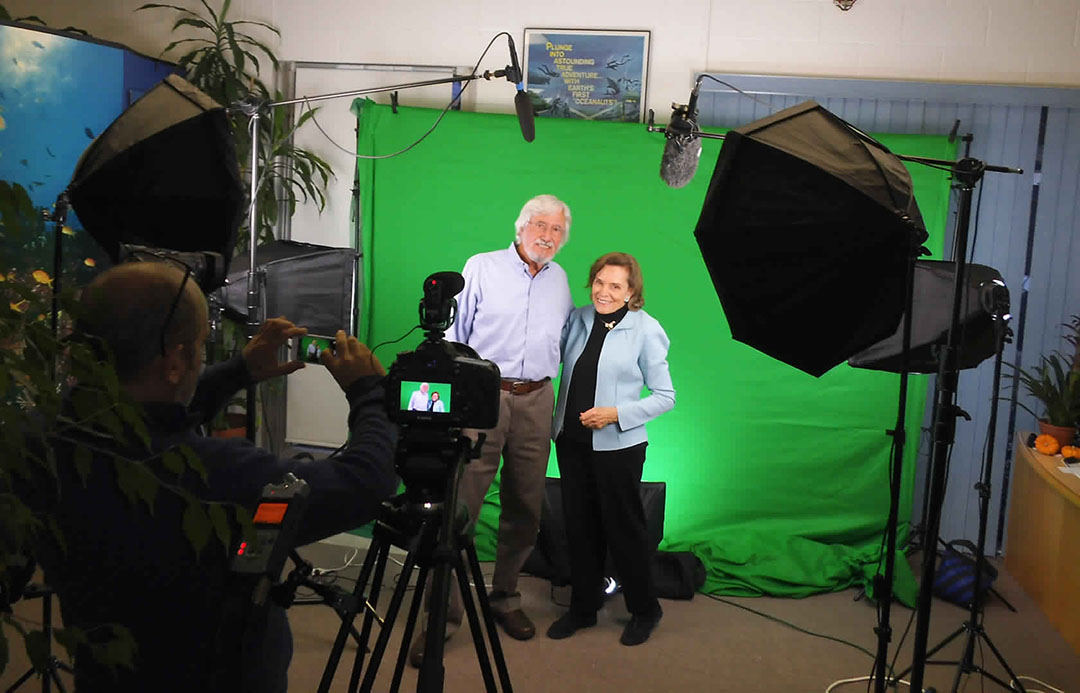 0 comment
Video Production with Green Screens
Several of my recent projects benefited from use of green screens. After shooting in front of a green screen, I can remove the green background in post and place any background behind my subject that I want.
One of my shoots was a promo video for SECRET OCEAN 3D, an IMAX film Produced by Francois and Jean-Jacques Montello and Directed by Jean-Michel Cousteau. I set up a green screen at the office of Jean-Michel Cousteau's Ocean Futures Society so that we could record Jean-Michel and Sylvia Earle promoting the film.  After the shoot, the Montellos replaced the green background with scenes from the film.
Video Production with Green Screens
I also shot another project with a green screen and Sylvia Earle at DOER Marine, Sylvia's facility where she and her team make submarines.  I filmed Sylvia and her Deep Rover submarine with a green screen so that I could place Sylvia and her submarine in Bikini Bottom – the underwater cartoonland where Spongebob Squarepants lives.  Shooting with a green screen allowed me to add Sylvia in her submarine motoring underwater in a cartoon as she explained the beauty and fragility of sea life.  I will place a link to the short film once its released on iTunes.
Video Production with Green Screens
Jean-Michel Cousteau and Sylvia Earle are amazing to work with.  Both of them are so positive and energetic and they inspire the people around them with their good energy and their message that we need to protect the ocean – our life support system.
I also did some filming in my studio with my boys and a green screen – just for fun.  My boys are good sports and we had fun just goofing around.
Some Tips for Shooting With a Green Screen:
– Move your subject away from the green screen so that green light does not spill onto your subject.  If you don't then you will need to spend extra time in post reducing the green spillover from your subject or parts of them will disappear along with your green screen.
– Light your subject correctly and separately from your green screen.  Once the green area drops off of your video you will want your subject to be well lit without shadows or hot spots.  Use lots of light on your green screen – the more the better to reduce shadows and to make the color of the green screen as uniform as possible.
– Stretch your green screen tight to reduce wrinkles and shadow that can complicate your post production work.
– Make sure your subject does not move outside of the green screen or off camera so that part of them is not cut off, such as a hand that moves off screen (you can see some examples of this in the video above with my boys).  It will make it harder to resize your subject and place them in a larger environment, such as a wide landscape.  For interviews, I make sure I do not crop off the top of their head, so that I can resize them later if I want without missing part of their head.