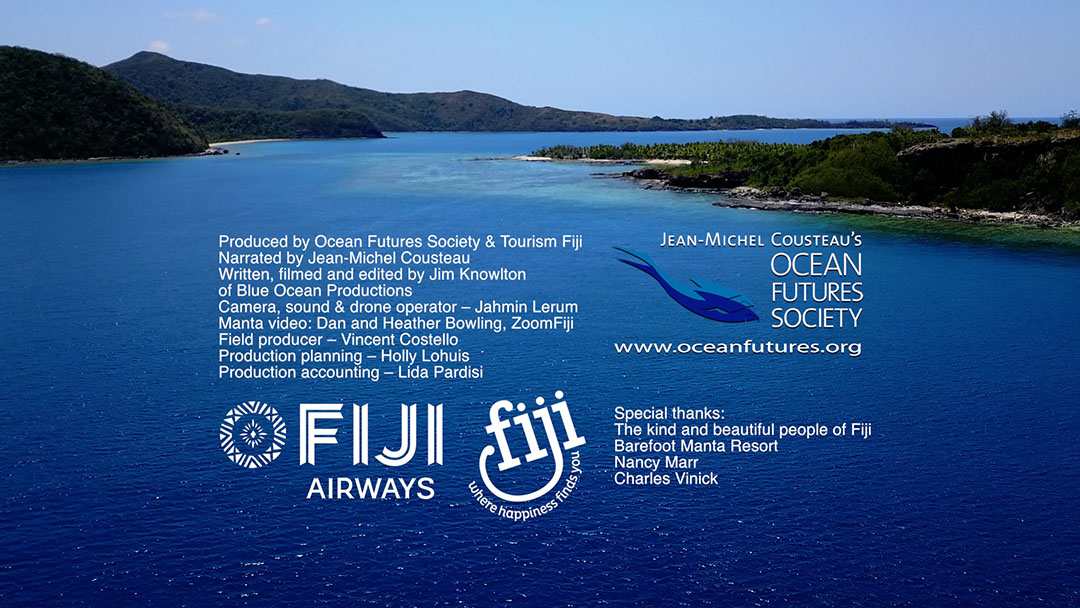 0 comment
In-flight videos for Fiji Airlines
Fiji Airlines is presenting a new series of videos about eco-tourism in Fiji on their in-flight entertainment system. The videos include stunning footage of some of the most beautiful places and resorts in Fiji. The videos are produced by Jean-Michel Cousteau's Ocean Futures Society and Tourism Fiji and were filmed and edited by Jim Knowlton of Blue Ocean Productions and Jahmin Lerum.
In-flight videos for Fiji Airlines
Jean-Michel Cousteau is an Ambassador for Fiji Airlines in recognition of his many years of traveling to Fiji and his message of ocean appreciation and environmental protection. Jean-Michel Cousteau says, "I'm happy to partner with Fiji Airways and invite people to come to this beautiful country. I've been diving for 73 years, and coming back here is a privilege for me. More than even the country itself, Fijians are the nicest human beings on the planet. I welcome you to a paradise. Thank you to Fiji Airlines to invite me to be an ambassador and to help people appreciate some of the best quality of the human species and the environment."
The Yasawa Islands of Fiji
The Mamanuca Islands of Fiji
Savusavu, Fiji

One of the main themes of the video series is that at eco-friendly resorts in Fiji, guests can take part in programs that leave the environment in better condition than when they arrived. Many resorts have full-time biologists that share their knowledge with guests and they help keep the resort eco-friendly. Non-profit organizations also work with resorts to help restore the environment. With programs such as coral planting, mangrove planting, and iguana breeding programs.